In all kinds of yoga, we use props. Your yoga mat is a prop that keeps your feet and hands from sliding, and it gives some cushioning too. The mat does a little work on your behalf so you can focus on other aspects of the postures. It creates the potential to experience more in your practice.
Using a chair as a yoga prop follows the same principle. With a chair, you can move deeper into postures, with more confidence and stability. Energy can be redirected into fine tuning your alignment, and increasing your strength and mobility. Wherever you are in your practice, you will find an edge of challenge that will help to improve your quality of life.
Heather Dawson teaches a weekly drop-in Chair Yoga class on Saturdays from 11:45am – 12:45pm. On Saturday April 21st from 11:45am – 12:45pm, come try the class for free! Friends and family are welcome. Register Here.
Heather Dawson on Chair Yoga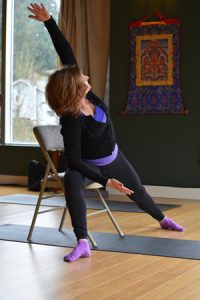 Kushala Yoga: What made you interested in teaching chair yoga? How long have you been teaching it?
Heather: I have always believed that yoga is for everyone, and using a chair makes yoga poses beneficial and accessible for more people. I have been teaching chair yoga for 6 years.
KY: In what ways do people benefit from chair yoga?
Heather: Everyone has limitations in their bodies. For some people, this makes mat yoga especially difficult – it can be hard to get in or out of a pose. For others, even if mat yoga "works", they may risk injury or just not be able to get the full benefits of the practice while working with the mat alone.
While standing or sitting, having the chair for support, we can adapt the poses creatively, and go deeper into the alignment. The chair is a tool, not a crutch. It makes yoga less formal, more conversational, you may even meet new people in class! With chair yoga, the real benefits of yoga can be directly gained; increased mental clarity, better proprioception (awareness of your body), strength and flexibility of course, and it lowers stress hormones levels.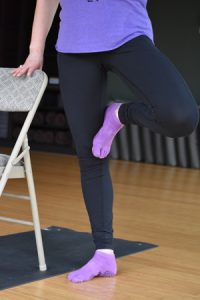 KY: What surprises people the most about chair yoga?
Heather: People are surprised that the class is really like doing an all levels Hatha class. They leave feeling they have had a work out, and a good stretch. We do a meditation at the beginning and at the end of class, and work on breathing exercises too. Members have said they are sleeping better, feeling more relaxed, and less achy in their bodies.